General Overview
Private Internet Access, or PIA for short, is a VPN service that offers services and features that rival some of the VPN industry's frontrunners. Their extensive server network, superior no-log policy, and strong consumer base make them a popular choice among users worldwide. Despite their fame, though, do they really offer the same privacy and convenience as other brands? What features do they have that make them superior over other VPN services such as NordVPN? Today, we'll be examining all the pros and cons of PIA to see whether or not it lives up to its reputation. As per usual, we'll also be going over their history as a company to briefly give an idea of who's running the service.
Private Internet Access was founded back in 2010. The founder, Andrew Lee, is also the official successor to the House of Yi, a former ruling house of South Korea's Joseon Dynasty. With its strong backing, PIA was able to grow to the company it is today.
PIA currently operates as the leading no-log policy VPN, and for good reason. They're one of the few VPN providers who have been proven to legitimately hold no records of personal data from their subscribers. This solid evidence makes their services all the more reassuring, especially when compared to other providers.

Private Internet Access Key SummaryTable
| | |
| --- | --- |
| Best For | Privacy, User Friendly, Torrenting |
| Speed | 89Mbps |
| Logging Policy | No Logs |
| Number of devices | Up to 10 |
| Servers | 3,395 |
| IP Addresses | 3,395 |
| Countries | 44 |
| US Netflix | Yes |
| Torrenting | Permitted |
| Works in China | No |
| Support | Live Chat |
| Cheapest Price | $2.85/mo over 14 Months |
| Operating System | Windows, Mac, Android and iOS |
Pros and Cons
Pros
Strong consumer base (1 million customers)
Over 3330 servers in more than 30 countries
Dedicated apps for their VPN service
Multiple payment options
Kill switch button
Proven no-log policy
Cons
Pricing is only really affordable in the yearly plan
No free trial
Some servers aren't selectable
Speed and Performance
Private Internet Access is a VPN service that boasts over 3395 servers worldwide across over 44 different countries. That's a lot for a VPN, as many services don't even have more than 1000 servers available. With over 3000 servers available for unlimited use, it allows users to find a location that offers good speeds and low ping.
In terms of actual speed, though, Private Internet Access doesn't really have much to brag about. In fact, their website doesn't even try to mention how fast their servers are. The only real mention about Private Internet Access' speeds is that their servers use Gigabit VPN ports. With no real numbers to get a better picture of their performance and no free trial to check them out for yourself, users must rely on online reviews (such as this one) to know if the speed matches their expectations.
With that said, here are the results of a test conducted in different server locations, all using a high-speed internet connection of over 500 Mbps. Note that despite this being the best-case scenario, the internet speed with the VPN isn't directly proportional to the base internet speed. In other words, you could have hundreds of Mbps less in download speed compared to the test results and still expect almost similar results, depending on the VPN service itself, of course.
Here are the results of the global server tests:
U.S.A. - 34.55 Mbps with VPN, 367.70 Mbps without VPN, ping: 119 ms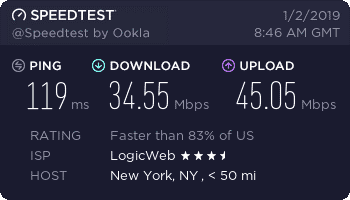 U.K. - 49.64 Mbps with VPN, 393.04 Mbps without VPN, ping: 48 ms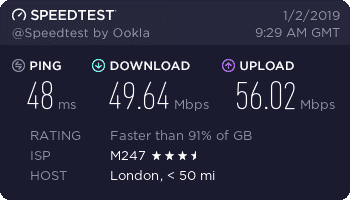 Download Speed
Best Possible server from Test Location - 72.80 Mbps with VPN, 553.35 Mbps without VPN, ping: 28 ms
Australia - 37.04 Mbps with VPN, 174.69 Mbps without VPN, ping: 366 ms
Germany - 66.84 Mbps with VPN, 457.88 Mbps without VPN, ping: 25 ms
Looking at these numbers, we can see that the internet speeds of Private Internet Access aren't on par with some of the bigger VPN titles. Most notably, other than the download speed from the best server location (located in Warsaw) and Germany, the internet speeds don't exceed 50 Mbps. As with every VPN, the farther you go, the more likely you are to experience slower and more inconsistent connections, and that seems to be the case for this test as well.
Does this mean that Private Internet Access' internet speeds are slow? Not really. By comparison, there are certainly VPNs with faster average speeds. However, PIA is definitely one of the faster brands out there, as reaching up to 72 Mbps is difficult for a VPN, even in the best possible server location. Granted, the speeds could be faster, but with 37 Mbps in a place as far-out as Australia, you can't really complain. It's safe to say that PIA's internet speeds are more than enough for the average user.
Privacy
Privacy is one thing that PIA strives to perfect. After all, they're called "Private Internet Access" for a reason. With cases of VPNs providing governments with data that they've collected through their network, even no-log policies can be difficult to believe in. Thankfully, PIA is one of the many VPN services that offer safe and anonymous browsing with no logging whatsoever.
In terms of their actual privacy policy, Private Internet Access has openly stated that the company does not make any profits whatsoever from selling data. The only revenue that they acquire comes from their VPN subscriptions.
In terms of security protocols, Private Internet Access has a few different options available. Among them, it is worth noting that OpenVPN is available. For those who don't know, OpenVPN is a security protocol that's preferred by many users and VPN service providers for its strength. Its open-source nature allows users from all over the world to improve the code and make it even better than before.
Speaking of open-source, Private Internet Access also works with other open-source projects and organizations worldwide. They work with Creative Commons, Blender, Apache, and other organizations to assist in making more open-source material available for everyone.
Finally, let's talk about their kill switch. Private Internet Access features a kill switch that prevents users from connecting to the Internet, should there be a sudden leak in data, or you're connecting without the VPN enabled.
Platforms and Devices
Supported Platforms and Devices
Windows
macOS
Linux
Android
iOS
Browser Extensions (Chrome, Firefox, Opera)
PIA supports all major PC and mobile systems, with dedicated apps for each. It also has browser extensions for the most popular browsers today, so you can seamlessly integrate your VPN experience to your preferred browser of choice. You can have up to 10 different devices connected to PIA at any given time.
Streaming and Torrenting
In previous tests, Private Internet Access allows users to connect to:
This is great because combined with their fast internet speeds, users can stream their favorite movies and shows in 4K resolution. There is no guarantee that it'll be available in the future, though as the company doesn't directly support this.
When it comes to torrenting, you're in luck. PIA allows for torrenting and P2P file sharing. In fact, you can torrent in just about any servers, unlike other providers which limit your choices to specific P2P servers.
Ease of Use
PIA's client apps are simple and sleek. They're easy enough to navigate through for beginners, and you'll get the hang of where all the features are located in no time at all. There are also quick settings to make fast changes without having to go through the entire app. Finally, it doesn't take up too much space on the desktop, so you can leave it on the side or in a separate monitor with no problems at all.
Customer Support
PIA has a dedicated section of its site for customer support, with live chat available 24/7 for anyone, even non-users. A FAQ page and Knowledgebase also help users who'd rather solve their problems themselves.
Pricing and Deals
1-month plan - $11.95/month
3-month plan - $5.99/month billed at $35.95/6 months (50% off)
12-month plan - $2.85/month billed at $39.95/12 months (76% off, 2 extra months free for the 1st year)
Pricing for Private internet access is, more or less, the industry standard. You have your base monthly fee, with large discounts for longer-term subscriptions. Our readers also have special discounts for those who want to try PIA out for themselves, which you can find here.
Users also have a wide array of payment options, ranging from conventional methods such as PayPal to more discreet solutions such as Bitcoin. You can even use gift cards if you have your hands on any.
Conclusion
Private Internet Access has all the features you could possibly want in a VPN. It's fast, it's secure, and it has affordable pricing plans. If you're looking for a VPN that's great for general use, whether it be for surfing the net, watching vids, or anything else, PIA's a great choice. We're giving it a solid 8.9 to reflect that.