General Overview
Founded in 2011, CyberGhost VPN is a Romania-based VPN service that has quickly grown to become a popular service in the industry since its start as a free platform. Boasting over 6000 servers across 89 different countries, and plenty of features to enjoy, there's a lot of reasons why CyberGhost VPN remains a solid choice among VPNs. For those new to CyberGhost, however, it's difficult to trust the safety and authenticity of the service, as it is with most VPNs. Is the service still free as it was back in the day? What guarantee is there that the VPN is safe? Can it access streaming services such as Netflix? In this review, we'll be tackling key questions that are usually asked regarding CyberGhost to give you a better idea of what makes this service better (or worse) than its competitors.
Originally owned by Robert Knapp, CyberGhost VPN was sold back in 2017 to Crossrider, an Israeli company. The VPN was sold for €9.2 million.
CyberGhost is offering a great VPN service for all types of user profiles. It has paid careful attention to safety concerns since it debuted in 2010, hiding torrent practices in untraceable servers and special security settings, while still being suitable for those that simply want to surf anonymously on public Wi-Fi or unblock geo-restricted websites comfortably at home. As a package that shouldn't stay invisible to anyone considering a VPN service, CyberGhost's short and long-term subscriptions will tempt anyone to discover the service's simple and very attractive apps that have customizable features to ensure everyone has the best experience on computers, mobile, and other devices.
CyberGhost Key Summary
| | |
| --- | --- |
| Best For | Pricing, Privacy, User Experience, Support |
| Speed | 87Mbps |
| Logging Policy | No Logs |
| Number of devices | Up to 7 |
| Servers | 7,100+ |
| IP Addresses | 6,000 |
| Countries | 90 |
| US Netflix, Hulu and BBC iplayer | Yes |
| Torrenting | Restricted |
| Works in China | No |
| Support | 24/7 Live Chat |
| Cheapest Price | $2.75/mo over 3 years |
| Operating System | Windows, Mac OS, IOS, Android, Linux and most routers |
Pros and Cons
Pros
256-bit AES Encryption
Fast Connection Speeds
Servers are Optimized for P2P and Torrenting
Safe from IP, DNS, or WebRTC Leaks
No Logs Policy
Support for Streaming Services like Netflix
Simple and Easy-to-Use Interface
Compatibility with All Popular Platforms
24/7 Customer Support
Cons
High-Censorship Countries Not Supported
Can't Torrent Everywhere
Pricing is only very affordable in long-term plans
Speed and Performance
If there's one thing you can rely on when it comes to CyberGhost, it's their connection speeds. This is thanks to their 6000+ server network that spans over 89 countries across the globe. Chances are that three's a server in the same country, or even the same city, as you're living in right now. As VPNs are typically known for their slow internet speeds, CyberGhost gains a competitive edge over most of the competition.
To see just how effective their server network was, we ran some speed tests on various server locations and compared it to regular speeds without the VPN. Keep in mind that the test used a very fast internet connection, and that even with lower speeds you can achieve similar results, as long as it isn't too slow.
Download Speed
U.S.A. - 84.86 Mbps with VPN, 367.70 Mbps without VPN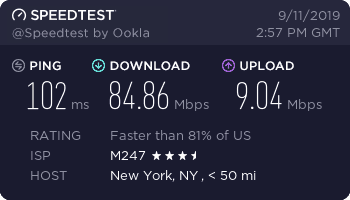 U.K. - 85.63 Mbps with VPN, 393.04 Mbps without VPN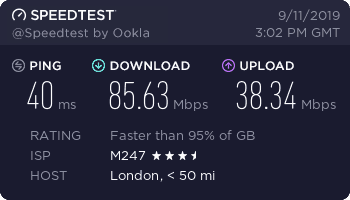 France - 98.69 Mbps with VPN, 498.73 Mbps without VPN
Germany - 97.59 Mbps with VPN, 457.88 Mbps without VPN
Australia - 12.92 Mbps with VPN, 174.69 Mbps without VPN
Conducting a quick speed test using their services has revealed quite positive results. Using an extremely fast internet connection showed that download speeds capped just over 100 Mbps, which is very impressive for a consumer VPN. You don't find speeds like that in most services. This test was run on the best server available from the test location.

It is also worth noting that for other popular areas, the connection doesn't seem to suffer too much either. For example, tests from U.S. servers resulted in a download speed of just under 85 Mbps, whereas Germany and France both reached speeds of 97-98 Mbps on average. In general, you can expect download speeds to hover around 80-90 Mbps in most locations, depending on your own internet connection.
One issue we found during the tests was that Australia seemed to suffer from the VPN treatment a lot more than other locations. At a download speed of just under 13 Mbps, it's clearly not even close to the 80s and 90s of other servers. Then again, CyberGhost VPN doesn't really have that much support in Australia, to begin with (more on that later), so it's understandable.
When it comes to the upload speeds, however, things end up becoming a little bit trickier. The best server test resulted in upload speeds of almost 60 Mbps, whereas Canada, which enjoys a download speed of 73 Mbps, has an upload speed of only 9 Mbps. It looks like the upload speeds vary greatly depending on the server, so you'll need to keep that in mind.
Privacy
Keeping up with the modern standards of data security, CyberGhost VPN boasts military-grade encryption for its services. Like many popular VPN services, CyberGhost uses 256-bit AES encryption, which means that your data could never be any safer with their services. The only real way to "decrypt" or tamper with your information is through brute-force, which is nearly impossible to accomplish with 2256 different possible combinations to go through.
Another feature that CyberGhost VPN boasts of is its assurance of keeping you anonymous to the internet and themselves, so you know that no one's snooping around on your data. This is achieved with two different features: their policy on logging, and the prevention of IP, DNS, and WebRTC leaks at all times.
Afraid of leaving behind traces of your online activity? CyberGhost follows a strict No Logs policy, which means that they don't keep any information on where you've been or what you've been doing. That means no tracking of browsing history, connection and disconnection timestamps, bandwidth usage, etc. It's all anonymous and private, allowing you to surf the web with peace of mind.
Many beginners can often end up leaking personal information even when using a subpar VPN. This can happen through IP, DNS, or WebRTC leaks that occur while still being connected to a VPN service. CyberGhost prevents this from ever happening by protecting your computer from leaking any possible information, so you can truly stay anonymous online.
One major caveat of CyberGhost is its limitations on countries that have high censorship protocols. Countries such as the UAE and China have very powerful web sensors that prevent CyberGhost from connecting to their anonymous servers. In this regard, VPNs with obfuscation tools such as ExpressVPN have an edge, as only these types of VPNs can manage to bypass the censorship barriers.
And even if you find a workaround online through CyberGhost or any other VPN without obfuscation tools, CyberGhost themselves don't recommend doing so. If you're getting CyberGhost to bypass censorship in high censorship countries, then you're better off using other services for that purpose.
Platforms and devices
CyberGhost has a feature that allows users to connect to their VPN service on up to seven devices. And thankfully, the service also features compatibility with just about every major platform, giving you access to their VPN from anywhere. For computers, CyberGhost supports Windows, Mac, and Linux. If you're looking to add VPN access to your phones, there's support for both iOS and Android devices, too. The VPN also works directly with your router if capable.
Streaming & Torrenting
Depending on where you live, torrenting or P2P-related traffic can either result in a fine or be straight-up illegal. This is usually the reason why many people opt to use VPNs - it masks their IP and allows them to download anonymously. However, with the slow internet speeds of your typical VPN, it can take a while for files to get downloaded through their services.
CyberGhost VPN tackles this issue not only with its extensive, same-country server support but also with its optimization of servers. CyberGhost servers are built with torrenting and P2P traffic in mind, which means that it performs better than other servers from the same location.
With CyberGhost you can watch your favorite movies and series at fast internet speeds through their platform. CyberGhost VPN can unblock a number of streaming channels, including:
Netflix
BBC iPlayer
Hulu
Disney+
HBO
Amazon Prime Video
Sling TV
Sky
Now TV
PlayStation Vue
Ease of use
Oftentimes, the VPN's interface and functionalities alone can prove to be a dealbreaker. That's why CyberGhost has chosen to simplify the interface of the application as much as possible to keep it user-friendly for beginners. This doesn't take away the functionality of the app, though, as you can access their more advanced options through the various tabs on the side menu.
Customer Support
One aspect of any great service is its responsive customer support. CyberGhost has a 24/7 live chat that lets users get in touch with the platform at all times in case they need help with any issues related to the service. You can expect an answer in as little as a few minutes, which is great. If you aren't really into contacting customer support for whatever reason, though, then you can always check out their library of online troubleshooting guides that offer solutions to the most common problems that users face with CyberGhost.
Pricing and Deals
CyberGhost VPN Pricing:
1 month - $12.99/month
6 months - $8.49/month, billed $50.94/6 months
12 months - $3.13/month with 6 free months (currently discounted)
The pricing plans of CyberGhost VPN are quite competitive in the industry, however you'll only be able to make the most out of your money if you subscribe to their long-term plans. Your typical one-month plan will set you back $12.99, whereas getting a six-month plan will only set you back $8.49 a month with $50.94 bill every six months.
The best deal comes from their 12-month plan, which often features deals and discounts that make it extremely cost-efficient. When last visiting their pricing page, they offered six bonus months for their 12-month plan, which cost only $3.15 a month. This is by far the best deal on the platform, especially since it's 76% off the original price. And if you're not satisfied with the 12-month plan, a 45-day money-back guarantee gives you the option to tap out, too.


CyberGhost VPN accepts all major credit cards, as well as PayPal, Google Pay, and BitPay.
Conclusion
Let's go through what we've learned so far with CyberGhost VPN. They were acquired recently by an Israeli company that had their name changed due to their background in shady business practices. However, there doesn't seem to be any real issue with CyberGhost itself regarding this, as their service does not install adware or malware.
Internet speed and performance are one of CyberGhost VPN's strong suits, with speeds of up to 100 Mbps, though Australia doesn't seem to be very well-supported. Their attention to privacy and anonymity gives users the freedom to surf the internet with peace of mind and despite their limitations on high censorship countries and torrenting in certain areas, they provide quality service to countries that they have full support for.
So, what's the verdict? Well, as long as you're able to make the most out of their features, then CyberGhost VPN is definitely a top-tier pick. Their fast speeds and data security features are hard to beat, and their competitive pricing makes them easy on the wallet, too. If you live in a place like China or Australia, though, you might want to use other VPNs that bypass the security measures that CyberGhost can't, such as ExpressVPN.