General Overview
There's a good chance that you may have heard of NordVPN before, whether it be from simple ads or sponsored mentions in videos of your favorite Youtube content creators. Founded in 2012, the VPN service has become a popular name in the industry, but does its fame match the quality of service and its associated prices? Today, we'll be taking a look not only at the VPN service itself, but also a bit about NordVPN as a company, and what steps they took to reach where they are now.
NordVPN has already managed to conquer the market by being one of the most reputable and trustworthy services ever made. Among its vast arsenal of features, the close attention given to security is one of the major highlights thanks to the presence of an automatic kill switch, protection against DNS leaks, ads and malware, and even double VPN servers. Speaking of which, these are only some of NordVPN's special servers that compose a global network filled with unusual locations, P2P countries, support for Onion over VPN, and more. NordVPN can be obtained in a handful of different subscriptions and even tried for free for one week, coming in the form of simple apps for all kinds of devices and user types.
NordVPN Key Summary
| | |
| --- | --- |
| Best For | Security, Pricing, Streaming, Privacy |
| Speed | 93Mbps |
| Logging Policy | No Logs |
| | |
| Number of devices | Up to 6 |
| Servers | 5,500+ |
| IP Addresses | 5,500+ |
| Countries | 58 |
| US Netflix, Hulu and BBC iplayer | Yes |
| Torrenting | Permitted |
| Works in China | Unreliable |
| Support | 24/7 Live Chat |
| Cheapest Price | $3.49/mo over 36 Months |
| Operating System | Windows, Mac, IOS, Android,Android TV, Linux and extension in either Firefox or Chrome |
Pros and Cons
Pros
Zero log tracking
Can unblock Netflix
No leaks for IP, WebRTC, etc.
Wide range in platform support
Thousands of servers worldwide
Very fast internet speeds for a VPN
Cons
History of a security breach
Prices are on the higher end of the spectrum
Client UI is not the best
Browser extensions aren't very intuitive
Speed and Performance
Almost all of the popular VPN services today are popular mainly because of one factor: speed. There are plenty of VPNs available in the market, but very few of them offer speeds that let you upload and download at relatively high speeds. And as one of the bigger names in the business, NordVPN meets with today's standards and delivers respectable performance results.
This is mainly due to their wide server network. NordVPN has invested a lot in its data centers, with over 5,800 servers across 59 different countries. They may not have as many servers as other VPN services, but they're more than enough to deliver high speeds at relatively low ping.
Download Speed:
U.S.A. - 53.56 Mbps with VPN, 367.70 Mbps without VPN.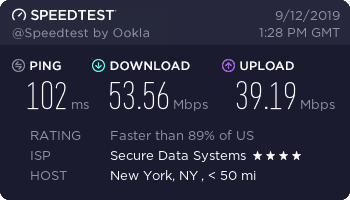 U.K. - 83.81 Mbps with VPN, 393.04 Mbps without VPN.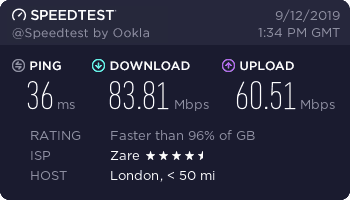 Australia - 33.57 Mbps with VPN, 174.69 Mbps without VPN.
Germany - 72.19 Mbps with VPN, 457.88 Mbps without VPN.
Canada - 55.33 Mbps with VPN, 383.91 Mbps without VPN.
For the test conducted above, keep in mind that a very fast internet connection was used and that you can still get similar speeds using the VPN as long as your connection is on the higher end of the spectrum. VPNs that can reach 90 Mbps are already top-of-the-line in terms of speed.
With a quick glance at the server tests, we can see that NordVPN boasts pretty fast download speeds. The best server from the test location had a download speed of over 90 Mbps, and with only 26 ms in ping, it delivered very well.
Similar results can also be found in the U.K and Germany server tests. With around 83 and 72 Mbps of download speeds (respectively), you can expect relatively good speeds if you are connecting to connections from Europe.
Taking a look at the results from other servers, however, we can see a different story. The U.S.A. server test, for example, resulted in only 53.56 Mbps in terms of download speed, with 102 ms of ping. That's a substantial decrease in download speeds, and when compared to other VPNs that deliver consistent speeds in almost all server locations, it's definitely not up to the highest standards.
Another concern is the results of Australia's server test. With only 33.57 Mbps of download speeds and a sluggish 374 ms, there is definitely room for improvement in the area. It is worth noting, though, that many VPNs struggle to deliver consistent speeds when it comes to Australia, so this behavior is (to an extent) understandable.
It is also worth pointing out that while the speeds are not as consistent across the board as other VPNs, NordVPN still delivers relatively fast speeds. Getting around 50 Mbps is still a difficult milestone to reach for many VPN services.
Privacy
You don't have to worry about your data being compromised at all when using NordVPN. In fact, they were the Best Overall winner of the 2019 ProPrivacy Awards. There's a reason why they're so effective at privacy, and it involves a combination of top-tier data encryption and zero-logging policies.
With the best encryption standards available, and three separate security protocols, NordVPN is considered by many to be a frontrunner in privacy and security. But that's not all they have featured: NordVPN's no-logging policy ensures that you don't leave a trace of your internet history anywhere. The only information that they hold is your email address and your billing information, which are essential in maintaining your subscription.
Platforms and Devices
NordVPN has connectivity support for a wide range of devices and platforms. Here's a list of all supported platforms for NordVPN:
Windows
macOS
Android
iOS
Linux
Proxy
Router
NAS
NordVPN has support for all major PC and mobile platforms, which partially contributes to their popularity. NordVPN also supports Linux platforms for businesses that use the OS for their own servers or operations. And, for those who want to add an extra layer of security, NordVPN's connectivity support for both routers and NAS devices makes them a great privacy solution for enterprises and startups alike.
Streaming and Torrenting
When it comes to streaming, NordVPN's website says you can secure access to over 400 streaming services.
Here are some of the most popular:
BBC iPlayer
Disney+
Hulu
HBO
Sling TV
Sky Go
Coupled with their fast Internet speeds, you can watch your favorite shows and movies in up to 4k resolution with no connectivity issues or loading pauses whatsoever.
Torrenting has become an increasingly common reason for users to purchase or subscribe to VPNs, and NordVPN was, until recently, very public about supporting the action. They originally claimed themselves to be the "Best VPN for P2P", however that has since been removed from the website entirely. That doesn't mean that NordVPN doesn't have options for P2P servers, though. In fact, they have P2P-friendly servers all over the globe.
What makes NordVPN so great for torrenting is the fact that their apps have a "P2P" option, which connects you to the best P2P-friendly servers from your location.
They also re-route your connection automatically to a P2P server if they notice you're performing any sort of P2P activity. So even if you forget to switch the P2P feature on, NordVPN ensures that you're getting the fastest torrent speeds.
This direct P2P server support, paired with their protection from IP or DNS leaks, encryption, and discrete payment methods, makes NordVPN an ideal choice for torrenting anonymously over the internet.
Ease of Use
NordVPN clients are definitely not the service's strong suit. The company has plenty of supported platforms, and if you'll want to be familiar with them you'll have to watch their 50+ tutorial videos to do so. Now you probably won't need to watch all of them, to be fair, but it still does take a while to get used to the smaller details and different accessible features on their applications.
Customer Support
While their apps aren't very intuitive, NordVPN does make up for it with its extensive customer support features. Their support website is home to various FAQs that can answer the most common concerns and has a 24/7 live chat that can address more specific issues that aren't that easy to solve on your own.
Pricing and Deals
1-month plan - $11.95/month
1-year plan - $6.99/month, billed $83.88/year (save 41%)
2-year plan - $4.99/month, billed $119.76/2 years (save 58%)
3-year plan - $3.49/month, billed $125.64/3 years (save 70%)
With no hidden fees and various payment methods, there's a lot to like with the payment structure of NordVPN. The 1-month plan is honestly quite expensive at almost $12 a month, and their second-cheapest plan costs you $83.88 total. While you do get to save a lot of money for longer-term plans, it would have been great if they had more options for shorter terms, such as 3 or 6-month plans.
Conclusions
Despite their pretty major security breach, NordVPN does deliver consistent VPN services, with their privacy and internet speeds as their main selling points. Torrenting and P2P services are directly supported, with optimized servers made just for it. And aside from their slightly confusing UI layout, there isn't much to hate about NordVPN. If you can look over their recent mess-up, then they're a solid choice among VPNs if you're looking for a long-term solution.
So do werecommend NordVPN? The answer is a resounding yes. The service is reliable, performs well, and works excellently for unblocking content, especially on Netflix. It may not be the fastest VPN out there, but the speeds should be more than adequate for most users. Additionally, performance is excellent for the price.
The fact that NordVPN doesn't accept PayPal is a disadvantage, but a minor one. Overall, the service is effective, easy to use, and provides excellent value for money.