General Overview
ZenMate is a VPN provider that's one of the more recent VPN providers to enter the market. Although they're relatively new, ZenMate's unique features and special deals have allowed them to quickly become a tried and tested choice for millions of users worldwide. Their extensive reach and pricing model makes them accessible for just about anybody. In this review, we're going to be tackling all the advantages and disadvantages that ZenMate has with their services. What do they offer that other competitors don't? Are their speeds capable of competing with the industry standard? Is your data really safe with them? We're going to be answering these questions shortly, so stick around to find out the answers. Before we go into the specifics of the service itself, it's worth keeping you up to date with the history of the company behind ZenMate, and what it means for the service as a whole.
Founded back in 2013, ZenMate is a Berlin-based company that's dedicated to keeping your information private at all costs. Not much is known about the company itself, other than the fact that it is operated by the parent company Kape Technologies.
Today, ZenMate offers VPN services with a free app, as well as a subscription service for those who want more features and better security. What makes it special from other VPNs is that their subscription plans let users connect with an unlimited number of devices at once. Other VPNs only offer up to 10 devices at once, which makes ZenMate such an affordable solution for families and groups.
ZenMate Key Summary
| | |
| --- | --- |
| Best for | Price, Speed, Safety |
| Speed | 86Mbps |
| Logging Policy | No Logs |
| Number of devices | Unlimited |
| Servers | 3,600 |
| IP Addresses | Not disclosed |
| Countries | 74 |
| US Netflix, BBC iPlayer | Yes |
| Torrenting | Permitted |
| Works in China | No |
| Support | Email & Online Resources Only |
| Cheapest Price | $2.22/mo over 18 Months |
| Operating System | Windows, Mac, Linux, Android and iOS |
Pros and Cons
Pros
Impressive internet speeds
Safe torrenting
Capable of accessing streaming services
No-logs Policy
Kill-switch
Extensive server network
Cons
Customer support could do better
App needs adjustments
Speed and Performance
When it comes to internet speeds, ZenMate is top of the line. For one, their server network is one of the most extensive in the industry, with over 3600 servers spread across more than 74 different countries worldwide. That means that there's a good chance a server is in your country, or better yet, not too far from where you live.
And the extensive server network isn't the only factor that makes ZenMate such a great VPN service performance-wise. As you'll see below, tests done with the VPN have shown very positive results, with speeds that are not only fast, but consistent as well.
As with other reviews, keep in mind that the download speeds in this speed test used an incredibly fast download speed of over 500 Mbps to showcase the VPN's best case. You can still expect similar numbers despite having slower speeds, however. In the end, it's your own internet speed that determines the speed of the VPN, so keep that in mind.
Here are the results:
U.S.A. - 53.03 Mbps with VPN, 367.70 Mbps without VPN, Ping: 102 ms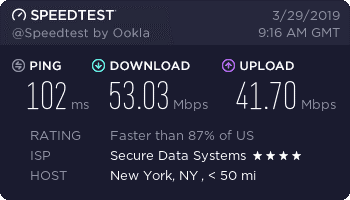 U.K. - 60.79 Mbps with VPN, 393.04 Mbps without VPN, Ping: 42 ms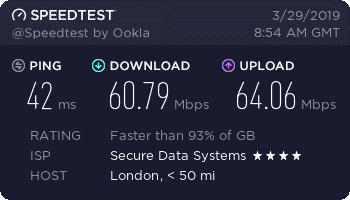 Best Possible Server from Test Location - 81.72 Mbps with VPN, 553.35 Mbps without VPN, Ping: 26 ms
Germany - 54.01 Mbps with VPN, 457.88 Mbps without VPN, Ping: Ping: 22 ms
Australia - 23.16 Mbps with VPN, 174.69 Mbps without VPN, Ping: 388 ms
As you can see from the results, ZenMate's download speeds are, more or less, consistent across the board, apart from Australia, which is difficult for VPNs to provide fast speeds from. Looking at the numbers, we can see that the speeds are around 50 to 60 Mbps, with the best possible server location boasting over 80 Mbps in download speed.
Privacy
VPNs are relied upon for their privacy, and ZenMate's been providing their reliable services to over 47 million users since their founding in 2013. Their encryption standards, security protocols, and privacy features have helped users stay anonymous on the internet.
In terms of encryption, ZenMate provides AES support. AES, for those unfamiliar with the term, refers to "Advanced Encryption Standard". As the name suggests, it is an encryption standard that is difficult to deal with and nearly impossible to decrypt. ZenMate provides support for both AES 128 and 256.
ZenMate also maintains a strict no-logs policy. That means they don't have a clue of what you're doing online at all, and they have no data to hand over to authorities. So despite them operating under German jurisdiction, as long as they uphold their policy, there's no reason to worry about your data being compromised by their services.
And if somehow the VPN stops working, or your internet connection drops, ZenMate also comes with a kill switch, which allows you to stop any unwanted personal information from being exposed online.
In terms of security protocols, ZenMate boasts a wide array of options. Mac has IPSec and IKEv2, whereas Windows has both protocols as well as L2TP/IPSec. For users of ZenMate Ultimate, users can also access OpenVPN, the open-source security protocol that's renowned for its superior security features.
Platforms and Devices
When it comes to platform support, ZenMate is compatible with plenty of devices and systems, including televisions.
Supported Platforms and Devices
Windows
macOS
Linux
iOS
Android
Android TV
Amazon FireStick
Routers
With the two most popular PC and mobile systems supported, almost anybody can use ZenMate. One great bonus is its support with Android TV and Amazon FireStick. Support for entertainment devices such as these aren't very common among VPNs, so this may be good enough of a reason to get yourself a subscription.
As an added benefit, as long as you have an active subscription, you can make use of their unlimited device support. In other words, you can connect as many devices as you want to ZenMate's services. This is a huge feature that hardly any VPN has, as most of them offer an upwards of 10 simultaneous devices for support.
Finally, it's worth mentioning that ZenMate supports both Linux and router devices. This is great for those that often use these devices for business or other purposes.
Streaming and Torrenting
For streaming, ZenMate supports access for streaming services such as:
You can stream as much as you want in high resolution as well, thanks to their fast internet speeds. ZenMate also allows P2P traffic for premium and ultimate packages, though they don't directly encourage it.
Ease of Use
ZenMate's client apps are simple and easy to understand, but they do come with a couple of issues. There have been reports of crashing and bugs with the program, and it doesn't seem to be as optimized as other VPN client apps. It'd to a lot better if these issues were resolved.
Customer Support
ZenMate comes with 24/7 live chat support on their website. You can ask questions at any time of the day. However, when it comes to the actual answers, you may find that it's either unclear or vague, which may make it difficult to solve any problem you may be having.
Pricing and Deals
1-month plan - $10.99/month
3-month plan - $5.39/month billed at $32.34/6 months (51% off)
18-month plan - $2.22/month billed at $39.96/18 months then yearly (6 free months, 80% off)
ZenMate's pricing model is very generous. They have a free VPN service with limited features, and their premium plan is as cheap as $22 a month for first-time user deals. You can also avail of special deals through our exclusive link. There's also a 30-day money-back guarantee, so you can try out the plan for yourself and get a refund if it isn't up to your expectations.
Conclusion
ZenMate provides incredibly fast internet speeds and great features with a generous pricing model. Its privacy policy guarantees that you won't have your data compromised by attackers or governments. With that, we're giving ZenMate an 8.6, because while they do have their benefits, some aspects of their service could definitely use a little bit of extra work.