General Overview
PrivateVPN is, as their name suggests, a VPN service that puts a focus on privacy. This Sweden-based VPN service has been around for over a decade and claims itself to be "The world's most trusted VPN provider". But is this really true? What can one expect when using PrivateVPN? Does PrivateVPN even live up to its name? In this review, we're going to be examining the ins and outs, the pros and cons, the ups and downs of PrivateVPN. Aside from taking a look at every aspect of the service, we're also going to be briefly covering the history and background of the company, and what implications it may have on your privacy. So whether you're interested in getting a subscription plan from them, or are just curious about the company in general, read on to find out if the self-proclaimed "fastest-growing VPN worldwide" lives up to its namesake.
PrivateVPN was a VPN service owned by Privat Kommunikation Sverige AB. The company originally operated under the name of privatevpn.se, and are one of quite a few VPN providers in the country.
PrivateVPN is a Sweden-based VPN company founded in 2009 and growing ever since thanks to a complete service geared toward streaming, P2P, and online security fans. The app for computers and mobiles is properly configured for both beginners and advanced users, who can easily connect to the best server using default settings, or customize their connection by choosing different protocols and encryption levels. Along with a global server network, the different plans with attractive prices are some of the best aspects of PrivateVPN, a company that allows its customers to request a 7-day free trial and enjoy a 30-day money-back guarantee after purchasing.
PrivateVPN Key Summary
| | |
| --- | --- |
| Best For | Support, Privacy, easy usage |
| Speed | 86Mbps |
| Logging Policy | No Logs |
| Number of devices | Up to 6 |
| Servers | 150+ |
| IP Addresses | 7,000+ |
| Countries | 59 |
| US Netflix, Hulu and BBC iplayer | Yes |
| Torrenting | Permitted |
| Works in China | Reliable |
| Support | 24/7 Live Chat |
| Cheapest Price | $1.89/mo over 2 years |
| Operating System | Windows, Mac, IOS, Android, Linux, Routers |
Pros and Cons
Pros
Good Internet Speeds (Capable of HDR and 4K)
Can stream Netflix, Hulu, and other streaming services
Zero-logs policy
P2P support
More affordable than most high-end VPNs
Up to six simultaneous connections
IP leak protection
256-bit AES encryption
Cons
Not the best app design-wise
Internet speeds are inconsistent
Lacks the server support to compete with more popular choices
Inconsistent support
Under 14 Eyes Jurisdiction (Sweden)
Speed and Performance
In terms of performance, PrivateVPN does have fast internet speeds, although that's largely dependent on where you live and the server that you connect to. Unlike other, more popular VPNs, with hundreds of servers available worldwide, PrivateVPN has only 60 servers scattered all over the globe. That means that if you don't live near one of their server locations (which is very likely), you won't get as fast of a connection.
Another issue of PrivateVPN is their lack of any indication that shows which server is capable of giving the user the fastest speeds. So even if you connect to the closest server near you, you may not experience as fast of a connection as you would for a server a bit farther away. You'll have to manually go through the server list to find the best possible connection for you.
With that being said, here are the results of speed tests for major server locations worldwide:
Download Speed:
Speed without VPN - 65.84 Mbps, ping: 31 ms
U.S.A. (Atlanta)- 22.21 Mbps, ping: 57 ms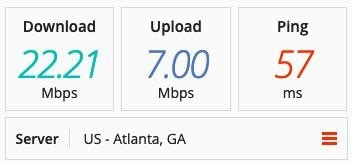 U.K. - 59.25 Mbps, ping: 111 ms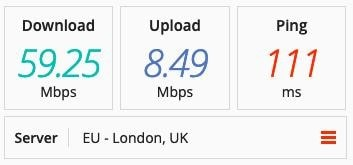 Germany - 19.55 Mbps, ping: 205 ms
Australia - 3.38 Mbps, ping: 324 ms
U.S.A. (Chicago)- 61.36 Mbps, ping: 64 ms
It is worth noting that other tests online have provided similar results despite faster internet connections (with one test involving a gigabit Ethernet connection), so as long as you have relatively fast internet speeds, these results are close to what you can expect to get.
Looking at the download speed results shows us that the U.S. servers can reach speeds close to the base internet speed of 65.84 Mbps, provided that it is routed through the right servers. As you can see, while Chicago boasts of speeds of up to 61.36 Mbps, Atlanta was only able to reach 22.21 Mbps, close to a third of the base speed. This means that even though the server is located close to where you live, you may experience better performance if you connect to more far-off servers instead.
Another point worth noting is the speeds outside of the U.S. The U.K. speed test resulted in great numbers, with 59.25 Mbps, while Germany wasn't even able to reach the 20 Mbps line. What's even worse is that the Australian server was extremely slow, crawling in at only 3.38 Mbps and 324 ms. Australian servers generally perform poorly across most VPNs, however, this test showed significantly worse results than others.
Finally, it is also important to note that while 61 Mbps is already fast enough, it isn't the fastest out there. Other VPN providers are capable of reaching consistent speeds of 80-90 Mbps at all times thanks to their extensive server networks.
But if all you're looking to do is stream media in 4K UHD with HDR, then there's no reason to not use PrivateVPN. You only need around 15 Mbps to be able to consistently stream 4K videos online, and other than Australia, the server test results all passed the 15 Mbps benchmark, so it's safe to assume that you'll be able to stream in Ultra HD as well.
Privacy
True to their name, PrivateVPN puts their privacy and security as their main selling point, with plenty of security and privacy protocols that prevent governments and hackers from being able to access your data. The privacy and security measures of PrivateVPN are built around various systems, starting off with their encryption standards.
If you're familiar with VPNs, then you've probably heard of 256-bit AES encryption. As the most powerful commercially-available encryption standard to date, 256-bit AES encryption boasts military-grade security that makes it nearly impossible for someone to compromise your data and information online.
Another great feature of PrivateVPN is their kill switch protection. If PrivateVPN detects that you aren't secured through a VPN, it disconnects your computer entirely from the Internet until it securely reconnects you to one of their servers again. This means that you won't find yourself exposed randomly while on the Internet.
Other than their strong encryption standards and kill switch protection, PrivateVPN also features various security protocols. These protocols can be selected (depending on the device and platform) and used to more securely connect to the Internet. Many popular VPNs give users access to different security protocols that suit the specific needs of the users, and PrivateVPN is no different.
Among the many security protocols available today, PrivateVPN uses six different ones: OpenVPN over UDP/TCP, IKEv2, PPTP, IPSec, L3TP, and L2TP/IPSec.
Finally, let's talk about logging and data leaks. Other than the kill switch feature, PrivateVPN also has IPv6 leak protection, which means that in situations where you're abruptly disconnected from the VPN for whatever reason, your IP won't get publicly leaked. This keeps the user anonymous 24/7.
In terms of logging, PrivateVPN claims to have a zero data-logging policy, assuring that any timestamps, internet history, and any other relevant logs don't get collected by PrivateVPN or any other third party. PrivateVPN states on their website that even governments won't be able to seize your traffic logs.
Platforms and Devices
PrivateVPN is capable of running in all major devices, as well as other, more business-oriented platforms.
Supported Platforms and Devices
Windows
macOS
Linux
Android
iOS
Routers
Proxy
Blackberry
OpenELEC Kodi
As you would expect from an established VPN provider, PrivateVPN supports all major PC and mobile platforms. They also support other, less popular devices, including Blackberry devices if you're still using those.
Streaming and Torrenting
A neat feature with PrivateVPN is that they are arguably one of the best VPNs to stream services such as
Netflix
Hulu
Amazon Prime
ESPN
HBO
Sky
The service claims that they build their servers around streaming services, and their network allows for widespread access to these services. With support for New York, L.A., Canada, U.K. and The Netherlands. PrivateVPN are great for those getting VPNs for the purpose of streaming.
Torrenting with PrivateVPN is great, too. The unlimited P2P file sharing support of their servers, as well as the port forwarding feature of select servers, makes PrivateVPN one of the better torrenting-focused VPNs out there.
Ease of Use
While PrivateVPN has extensive support for various devices, the apps themselves aren't the best. As mentioned earlier, you can't find the fastest available server automatically, and it can be difficult to navigate the app with its layout. Some users may not like the design choice of the app, either. Finally, there aren't any browser extensions available, so you'll have to open the app itself to run the VPN before browsing.
Customer Support
The customer support of PrivateVPN is hit-or-miss. On one hand, reviewers claim that the provider has great and responsive services, while plenty of others have mentioned about their terrible experiences with the platform.
Pricing and Deals
1-month plan - $7.67/month
3-month plan - $4.88/month, billed at $14.63/6 months
13-month plan - $3.82/month, billed at $49.68/13 months
Overall, PrivateVPN boasts some very affordable prices that are considerably cheaper than more popular VPN services. With their one-month plan at only $7.67, they're one of the best services to avail of one-month subscriptions.
Conclusion
To conclude, PrivateVPN has all you could ask for in a secure and safe VPN. While their internet speeds and server network reach aren't on par with the frontrunners in the industry, they make up for it with their stellar streaming service support, P2P-friendly features, and above all, their extensive privacy measures. There is room for doubt due to where the company operates, but the company itself hasn't had any issues so far, which makes PrivateVPN a safe bet overall.